If there's one thing consumer's love, it's seeing some of their favourite brands come together to make something spectacular. Brand collaborations in 2021 have become a popular way to increase brand awareness and reach a variety of audiences. But one of the most important factors brands must consider is choosing the right collaboration that is both genuine, authentic, and aligns well with what the brands stand for. Life Of A Marketing Girl Is here to share the top collaborations that hit the sweet spot of brand partnerships!
Popeyes x Meg Thee Stallion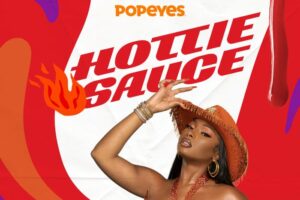 Food collaborations have become a popular form of collaboration within the last five years as we've seen music artists like Saweetie and Travis Scott with McDonalds, Lady Gaga with Oreo Cookie, and Nike with Ben and Jerry's. But the latest food collaboration that we at Life of a Marketing Girl is the most genuine and authentic is the Megan Thee Stallion x Popeyes. Popeyes is an American fast food restaurant, popular in cities such as New Orleans, Memphis, and of course Megan Thee Stallion's hometown of Houston, Texas. The collaboration includes a dipping sauce, named after the artist called "Thee Hottie Sauce" as well as exclusive merch called "Thee Heat" including t-shirts, bikinis, hats, and even dog toys. Megan Thee Stallion has created a brand for herself through her music that is the epitome of "hot" and sexy. With Popeyes being known for its hot and spicy chicken and sandwiches, it was definitely a great idea to collaborate with southern superstar Megan "Thee Hottie" Stallion for their next food collaboration.
Amina Muaddi x Swarovski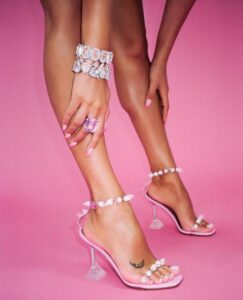 Amina Muaddi is the latest designer in the luxury shoe industry, and has been taking the fashion industry by storm with her unique silhouettes and signature flared heels. Her latest collaboration is with the jewellery brand, Swarovski, known for their spectacular crystals. The collaboration includes the "Julia" sandal, a pink strappy heel laced with Swarovski crystals and Amina Muaddi's signature flared heel. Combining the elegance of a Swarovski crystal with the unique silhouette of the Muaddi heels makes for a dream shoe collaboration bound to catch the attention of all shoe lovers.
LEGO X Ikea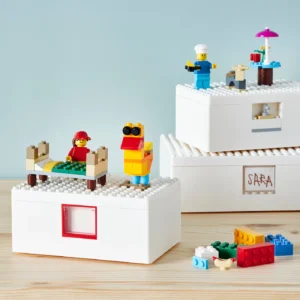 LEGO and Ikea have released their latest collaboration, BYGGLEK, a range that includes storage boxes compatible with LEGO's designed to store LEGO's but also can be used to play with LEGO toys. BYGGLEK means "to build and play" and aligns well with the Ikea brand because Ikea allows you to create and build your space in your home. Each of these brands unique selling points include creating and building something unique from scratch, so this brand collaboration was effortless and authentic.
Gucci x Balenciaga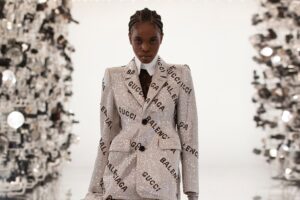 Gucci's designer Alessandro Michele created "The Hacker Project", where they combined the signature designs of Gucci and Balenciaga by "hacking" into some of the Balenciaga's house codes. Luxury brand collaborations are few and far between, so consumers enjoyed seeing the designs of two renowned brands. This collaboration is unique because two competing luxury fashion houses came together to create something new and never done before and attracted loyal clients to each brand to try pieces from one another.
These are our Life Of A Marketing Girl current favourite approved partnerships to highlight in 2021.