Another week on  #LifeOfAMareketinggirl and we have a new Inside scoop from a music marketer. As we have shown on this platform a marketing career can take you into any industry, and music is hot market in front and behind the scenes.  Let's get the inside scoop from a marketer at one of the music industry hottest labels Sony Music. 
Hey Daisy! A fellow Marketing girl, that is killing it. We can't wait to get to know you more. So let's get right into.
Music marketing is your job, how did this all begin for you? (Did you go to University/ intern/get a graduate role?)
Music Marketing wasn't something I planned to do I just found a passion for music and applied what I learned during my university days. 
I studied business studies marketing at the university of Bedfordshire and then completed my master's in Strategic Marketing and Communications.
What was it about music marketing that made you choose that specific industry?
I'm a huge fan of music, especially Afrobeats. My journey in music started in 2015 when I was a PA to Rebecca Winter and then later became her manager. It made me realise that I wanted to learn more about the music industry, so I began to research into music marketing and taught myself through shadowing people in the scene, reading books, networking at events.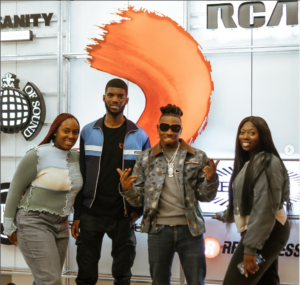 Last year I noticed that there aren't really affordable resources online to help rising talents or managers so I started to create my own ebooks & guides on music marketing!
What are the key elements of your role? 
As a music marketer I am responsible for a few things; 
Running UK marketing campaigns for UK and international acts. 
Preparing timelines and marketing plans for artist releases. 

Developing creative briefs and commissioning content, artwork and videos

Working with designers and art directors to create artist appropriate assets
Liaising with all DSP's and external partners/stakeholders/ Brands / Digital team to facilitate the delivery and servicing of new releases.
Covering marketing updates and assisting in TV and Radio Ads/Promotions. 

Maintaining the budgets for releases

A whole heap of administrative stuff (Sabine documents, sending emails, updating one-sheets etc)
What would say are the key skills to work in music marketing especially as streaming and social content is a big part of a music artist growing a fanbase/community?
it's important to stay on trend (having the knowledge of what is going on in the scene what is driving streams now looking at what works for other artists and how can you implement it in your own way for your campaign).

Educate yourself (training, LinkedIn learn, read about past marketing campaigns that have worked) .
Be organised and have the skill set to manage multiple projects.
What does a busy day in your role consist of?
Honestly, a busy day is every day! Back to Back, Meetings, Responding to emails, preparing decks and plans and so on.
If you could go back, what would you tell your younger self?
You have so much potential, to stop so stop being afraid. The world is yours and FOCUS!
What has been the best career advice you have ever been given or read? 
"Do everything yourself till you can't anymore. Then get people that are better than you in the things u would like to delegate" – When I spoke to Don Jazzy he gave me this advice and it stuck with me which led me to start my own marketing & PR agency ONE88 AGENCY .
There are so many Budding marketers who want to get into the music industry, especially as the music market is expanding. What top 3 tips would you share for them to find their way in building a career? 
Network with artists, managers, tastemakers Online & Offline – show them your value and don't be afraid to charge! 

Do your research things are always changing, new trends stay on top of it all. 

Be confident in yourself and own every room you step in! 
We love to get to know marketers outside of their jobs, so If you had to relive your career again what other job could you see yourself doing? 
Honestly, I'll consider acting! I wanted to be an actress I spent some time in drama school but it looks like God had other plans! 
Check out Daisy in her instagram where she also share marketing tips for those interested in the music business, it's so insightful the information she shares.