At Life Of A Marketing Girl, we always love to connect to and speak too different marketing experts across various industry. It's all about knowledge just as much as experience and we want to make sure, our community of #LOAMG is equipped with the knowledge they can't find anywhere else! 
Do you have an interest in technology? Interested in being a, Marketing Program Manager?Marketing is a big funnel in this industry and offers a promising career. Get to know how Tiffany started her career and now work for Sitecore – Creating human connections between brands and their customers with rich end-to-end content, seamless commerce, and always-on personalisation so brands can thrive in a world where, without a digital experience, there is no product. Meet Tiffany Odson….
What is your job role?
I am currently a Marketing Program Manager for EMEA at Sitecore 
What does that entail?
I am responsible for planning and executing marketing programs that drive inside sales effectiveness and pipeline growth. So essentially leading activities that implement key strategies including email and social marketing, webinars, campaigns, and events (virtual and onsite). My role also extends to the localization and roll-out of relevant corporate campaigns in EMEA. 
How did you get into the industry?
I started B2C agency side in the fashion and lifestyle industry as this was the easiest and most tactile way to skill up in marketing practice and finding my feet as a 'adult' in the working world. Once I established my confidence and built rewarding connections, I was put forward for a corporate role as a contractor within a global cyber security company. This was the turning point for me, having stumbled into the tech industry. After extensive research into the different opportunities in the world of tech as well as compensation, there was no turning back and I have been working my way up in B2B since.  
As the tech industry is booming, what do you think is a key skill aspiring marketers, should learn or equip as they delve into the technology sector? 
First and foremost, don't be put off by the term tech – it's not all jargon! I would say do your best to understand the different marketing teams and what they actually do, then figure out where you want to sit in the landscape.  From there you will have a starting point to ensure the role matches your strengths. 
To be successful in the tech industry, it is important to know how to adapt according to your audience as not everyone will be from a technical background, so storytelling is everything! A personal skill I encourage is emotional intelligence as you will find yourself collaborating with people in a target driven, predominantly male-dominated world.
Of course, basic transferable skills go a long way like; communication, teamwork, versatility, and basic Microsoft/IT. Key marketing skills to have are analytical and critical thinking, marketing automation tools, content, and digital knowledge. 
In the industry do you look up to any other women in your field? (If no, do you think there is a lack of e.g. female CMO's, female creative marketers and female mentors?)
I am inspired by a few CMO's like Bozoma Saint John and Leslie Berland, however, I feel there isn't enough relative female representation within the tech space. Now with my generation (millennials) constantly pushing boundaries and making sure those barriers are broken. We need to keep changing this narrative, especially within the black community. So, here's to all the future female CMO's and mentors! #LOAMG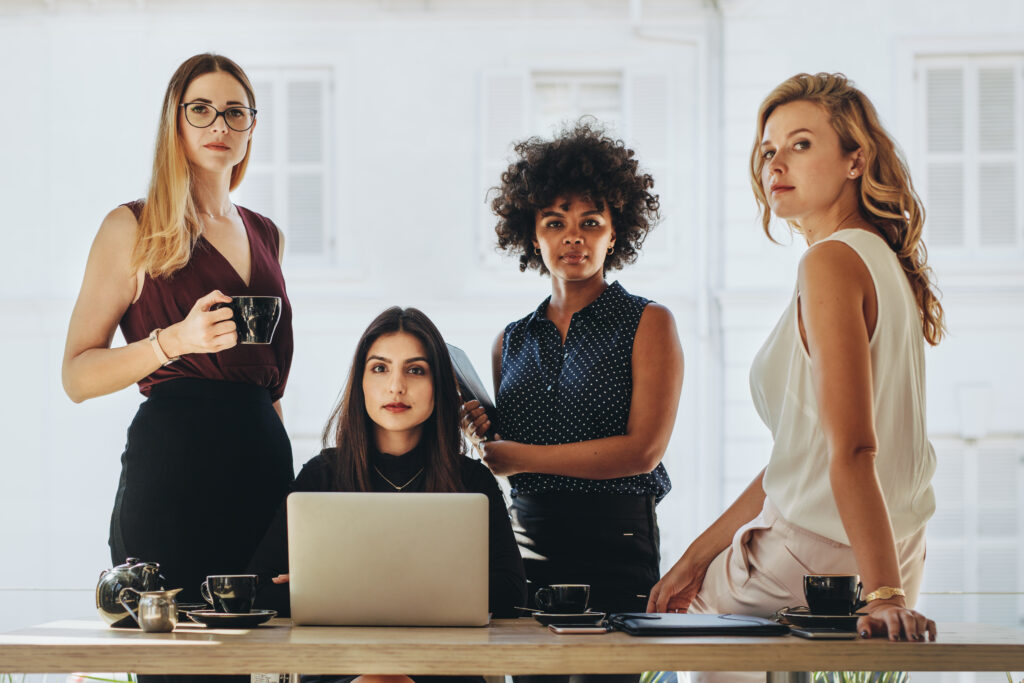 What is the most rewarding campaign or win in general that you are most proud of?
'Giving Campaign' – At the peak of the pandemic, everyone's priorities changed. We saw a shift in how our audience was interacting with us and the move from in-person events to virtual-only saw a lot of people facing webinar fatigue. 
This challenge meant I had to make these digital events different and more entertaining to keep attendance up. I ran a series of wine tasting thought leader sessions and some virtual afternoon tea sessions. It was a small change to the agenda and logistics, but the results were great, and we still maintained the necessary conversations with our customers and prospects 
Who/what is your greatest teacher?
My greatest teacher has always been my sister. She taught me how to be the independent young woman I am today. We give each other the daily encouragement to get up, pray and be the best version of ourselves and the best at what we do.
What is your most valuable lesson?
One of the most valuable lessons I had to quickly learn was to have confidence in myself. I belong in these spaces and deserve a seat at the table. 
Find out more about Tiffany Odson Click below!!!